Aikatan Cultural Association Mumbai's Durga Puja At The Country Club Andheri West Once Again Welcomes Maa Durga And All Her Devotees With Open Arms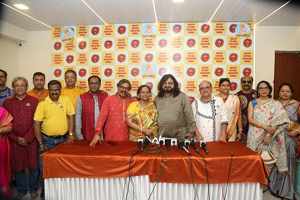 It's that divine time of the year when not only Bengalis but people across communities eagerly welcome Maa Durga in all her glory and seek her blessings and thank her for whatever she has blessed them with over the previous years. For the past three years Durgotsav has been organised by Aikatan Cultural Association Mumbai and has been the centre of attraction for the worshippers of Maa Durga. The association has been organising Durga Puja at The Country Club which is situated at Veera Desai Road Andheri West.
Notably, the biggest attraction of Durgotsav 2023 is well known music director Pritam Chakroborty, who is also the chief patron of the Durga Puja organised by the Aikatan  Cultural Association Mumbai. He and his family are deeply involved in planning and organising the Puja since its inception.
The association has an amazing musical rendezvous lined up on all the days of Durga Puja (Bollywood singer Anwesshaa on Mahashoshti, leading folk song band Surojit o Bondhura on Mahashtami and Natok by famous group from Kolkata, Parnasree Bohumukhi Cultural Society on Mahanabami). In addition, the members and their children also  showcase their musical talent on Mahasaptami , which is surely going to make the entire event a memorable one.
It is interesting to know that Aikatan Cultural Association Mumbai is not only known to organise the much talked about Durga Puja at The Country Club, but it is also one of those associations which is also deeply involved in the philanthropic work and always ready to help needy people in various forms. Thousands of beneficiaries are testimony to the facts the association has always been at the forefront to help the poorest of poor and marginalised communities.
Somali Sarkar, one of the founding members of Aikatan Cultural Association said "The association strongly believes that there are many in society who would need a helping hand. Our resources are limited but we do our best to help and a portion of our Association's fund is kept aside to extend financial help to the needy. This year, we have partnered with 'Artistic Hands' which is a vocational training centre for children with special needs. The objective is that we work for the empowerment, self-reliance and holistic development of the children."
Talking about 'Gram Bangla' Somali Sarkar said, "This year the theme of our Durga Puja Pandal is Bengal folk art though which we are portraying the rich cultural heritage of Bengal. We are emphasising on 'Gram Bangla' which  means rural Bangla which has always been rich in its cultural endeavors. The nostalgia of Bengal folk art is on full display and people visiting the Pandal are just loving it."
The Puja was inaugurated by none than Swami Satyadevanada, Adhyaksha Of Ramkrishna Math, Mumbai. During the Durga Puja, apart from the common worshippers of Maa Durga, many dignitaries from various walks of life are also gracing the Durga Puja Pandal and getting all the  blessings during the mesmerizing Durgotsav organised by Aikatan Cultural Association Mumbai. A few names till now are famous Bollywood singer Sunidhi Chauhan, actors Manish Wadhwa, Pallavi Chatterjee and Shakuntala Barua. 
Some of the key well-wishers of Durga Puja organised by Aikatan Cultural Association Mumbai  are Tanishq, State Bank of India, Signature by Peridot (Lotus Builders and Developers), Smart Ship Hub Digital India,  Global Tech Integrated System, Senco Gold and Diamonds, Shreeji Constructions, Taste of Kolkata, Indian Oil, Onshore Construction Company, ASUS Computers, Chamunda Reality, Sanskara Hearing Solutions, Jamai Shoshthi, ICAP, Universal Sompo General Insurance, PC Chandra Jewellers, Trisha Studio, Vital Signs Consulting etc.
The PR was handled by Purti Havle of Girish Wankhede's entity one entertainment solutions private limited.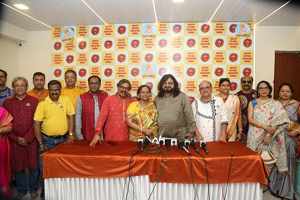 Aikatan Cultural Association Mumbai's  Durga Puja At The Country Club Andheri West Once Again Welcomes Maa Durga And All Her Devotees With Open Arms