Director Dhiraj Kumar Receives The ICONIC FILM DIRECTOR Award For His Exemplary Contribution Made To The State Of Maharashtra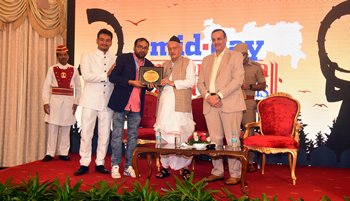 Director Dhiraj Kumar is honoured at the Mid-Day Maharashtra Gaurav Awards by the Governor of Maharashtra, Mr. Honourable Shri Bhagat Singh Koshyari.
The second season of the Mid-Day Maharashtra Gaurav Awards was recently held. This particular effort was made to felicitate individuals who have significantly benefited Maharashtra and acknowledge and honour well-known figures in their respective areas. The event brought together the fraternity's trend-setters and influencers who have had a significant impact on our economy. These people have all been visionary leaders who have passionately embraced their goal and fiercely pursued it to fulfillment.
One of the most sought-after directors in the industry, Mr. Dhiraj Kumar, Directed 'Kashi, In Search of Ganga', his first Hindi feature film, it was released in October 2018. Sharman Joshi, a well-known Bollywood actor, was joined by Govind Namdev, Aishwarya Devan, Manoj Pahwa, Manoj Joshi, and Akhilendra Mishra as co-stars.
Now, Dhiraj is all set to release his upcoming film, 'Suswagatam Khushaamadeed,' which stars Katrina Kaif's sister Isabelle Kaif alongside handsome hunk Pulkit Samrat. The actors look absolutely stunning together on screen in their first-look pictures. The movie 'Suswagatam Khushaamadeed' seeks to preach a message of societal peace. It will star Pulkit in the character of Aman, a Delhi lad, and Isabelle in the part of Noor, an Agra native.
In addition to this, Dhiraj Kumar is working on a new project, which will be revealed soon.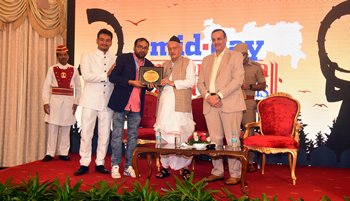 Director Dhiraj Kumar Receives The ICONIC FILM DIRECTOR Award For His Exemplary Contribution Made To The State Of Maharashtra