MATSYANGAN Solo Show Of Paintings By Well-Known Artist Chandrashekhar Kumavat In Jehangir
From: 13th to 19th November 2023
"MATSYANGAN"
An Exhibition of Paintings by well-known artist Chandrashekhar Shravan Kumavat
VENUE:
Jehangir Art Gallery
161-B, M.G. Road
Kala Ghoda, Mumbai 400 001
Timing: 11am to 7pm
Contact: +91 98224 92376
"Matsyangan: Fusion of Realism and Fantasy"
The Jahangir Art Gallery is set to host an exquisite exhibition of paintings by acclaimed artist Chandrashekhar Shravan Kumavat. Titled "Matsyangan: The Symbol of Love," this event promises to be a beautiful art experience for enthusiasts and collectors alike.
Over the past two decades, the influence of abstract art styles has waned, making way for a resurgence of figurative art forms. This shift has not only captivated artists but also art aficionados and collectors, particularly in the realm of realistic portrayals. Chandrashekhar Kumavat, hailing from Pune, stands as a prime example of an artist who has carved out a niche for himself through his unique art style.
Having received numerous awards and accolades since his student days, Kumavat's distinctive approach has garnered attention on both national and international stages. His artistry, characterized by a blend of pen strokes, dots, lines, and bold black circles, is delicately woven into a vivid tapestry of experiences.
At the heart of his narrative lies the story of Matsyagandha and her lover, brought to life through intricate details and a dreamlike backdrop. Kumavat's mastery lies in striking a harmonious balance between materialism and fantasy, exemplified by the simplicity of his central characters against the backdrop of water ripples and aquatic imagery.
While proficient in acrylic on canvas and ink on paper, Kumavat has pioneered a unique style in line art, favoring suggestive forms over realistic representation. The interplay of various drawing forms, content, and technique culminates in a breathtaking body of work.
In addition to his artistic pursuits, Chandrashekhar Shravan Kumavat also imparts his knowledge and expertise as a lecturer at Abhinav Kala Mahavidyalaya in Pune. In his own words, "A spontaneous expression of feelings through a certain medium can be called ART." Kumavat draws parallels between an artist's creative process and the natural world, emphasizing the significance of elements such as Light, Color, Space, Rhythm, and Movement. Each stroke of the brush or pen not only conveys the artist's ideas but also reflects their inner state to the external world, contributing to the evolution of cultural perspectives.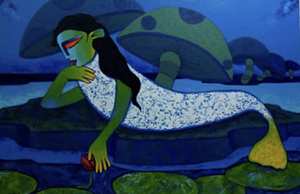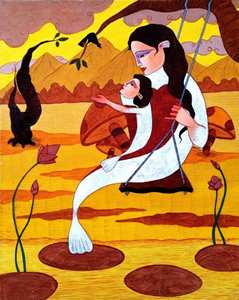 MATSYANGAN Solo Show Of Paintings By Well-Known Artist Chandrashekhar Kumavat In Jehangir