VISION An Exhibition Of Paintings, Sculptures, Graphics By Six Artists From Bengal In Nehru Centre Art Gallery
From: 31st October to 6th November 2023
"VISION"
An Exhibition of Paintings, Sculptures, Graphics
By Arup Kumar Das, Arun Paul, Mrinmoy Das, Suman Kumar Pal, Pradip Mondal, Partha Protim Gayen
VENUE:
Nehru Centre Art Gallery
Dr. Annie Besant Road,
Worli, Mumbai 400 018
Timing: 11am to 7pm
Contact: +91 8910896794, 9073306170, 9836804683
Captivating Exhibition Unveils Diverse Artistic Brilliance in Mumbai
Art enthusiasts and aficionados are in for a treat as the Nehru Centre Art Gallery in Mumbai prepares to host a mesmerizing exhibition featuring the collective brilliance of six distinguished artists from Bengal.
Running from October 31 to November 6th, this showcase promises to transcend boundaries and seamlessly intertwine narratives through a diverse range of techniques and inspirations. Each artist brings forth a unique perspective, weaving a vivid tapestry of creativity that promises to captivate all who enter. 
Arup Kumar Das: Mr. Arup's work interest has drawn inspiration particularly from freedom, but not limited to the visual area. Architecture also influences his work. The main admiration is architectural inputs in his work. Curvilinear shape/line has always been a critical element in Arup's work. It is a simplification of many elements relevant to his expression: the feminine curve, an opening, an architectural element, the line that traces a graph or as part of the organic world. The nuances and expressive quality of the curve is explored in printmaking and drawing, and informs all of his work. Arup Das currently teaches in Applied art Dept at Govt. College of Art & Craft, Calcutta.
Arun Paul:  Arun Paul got his BVA & MVA degree in Textile Design from Govt. College of Art & Craft, Calcutta, in the year 1997 and 2000. He also teaches there. His works are mostly composed with various forms and colour patches. Motifs and solid type background contrasting the whole construction of his compositions.
Mrinmoy Das: Mrinmoy Das likes to express all things that have to do with fabric. His passion is fabric dyeing, using natural and commercial dyes and also painting, stamping, screen printing, and also his work is fabric quilting, manipulating along with threads and other embellishment that bring life and contrast to the wall hangings. In his journey, Mrinmoy is practicing as Fiber Artist and presently teaching in Textile Design at Govt College of Art & Craft, Calcutta. He became passionate about studying weaving, dyeing, and printing and embroideries techniques.
Suman Kumar Pal: Graduated from Govt. College of Art & Craft, Calcutta in 1992 and Post Graduated from Rabindra Bharati University in the subject of Painting. Suman Kumar Pal a Contemporary Mural Artist, with various prestigious awards, presently teaching in his own college. His murals depict the suburban culture and its complexities. The Architectural buildings are the prototypes of the diverse mentality with commonalities.
Pradip Mondal: Nature is the main composition of Pradip Mondal's sculptures. He has BVA and MVA in Modelling and Sculpture from Govt. College of Art & Craft, Calcutta, where he teaches also. His sculptures represent the contouring base lines of nature. The linear metallic compositions are just simple in nature to express the transparency in objects of this phenomenal world.  The lightness of heavy metal compositionally completes the surroundings.
Partha Protim Gayen: Partha's works are statements about history & our relation with Mother Nature. The connectivity of society & nature is an important core thing of these creations. His environmentally concerned attempt reminds us that contemporary art has a role to play in making sense of the world & doing it by reviving the belief that everything we are accessing or developing, should actually for the betterment of Mother Nature. Completing his BVA and MVA in Modelling and Sculpture from Govt. College of Art & Craft, Calcutta, Partha currently teaches in his own college. He has a MFA in Art History and Aesthetics from  M.S.U. Baroda.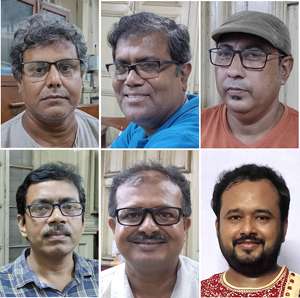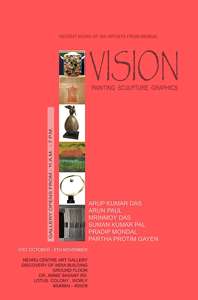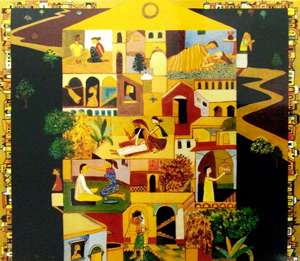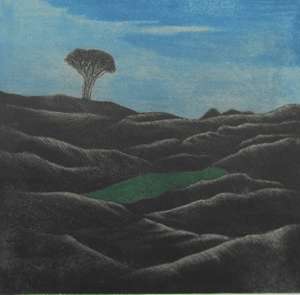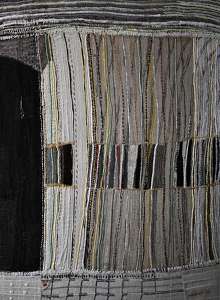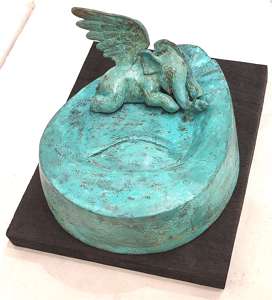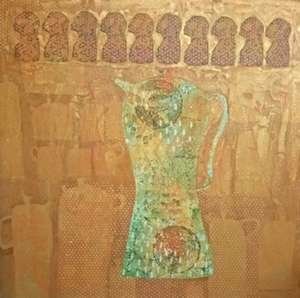 VISION An Exhibition Of Paintings, Sculptures, Graphics By Six Artists From Bengal In Nehru Centre Art Gallery