The corporate bigwigs had a ball with their families at the Uunchai celebratory screening by Natasha Malpani Oswal
After Anupam Kher's mother of all Uunchai premieres for the entertainment industry, the  Corporates and financial  industry doyens  congregated to  be part of the   Uunchai celebratory screening by Uunchal producer Natasha Malpani Oswal at PVR Juhu.
Over 500 corporate bigwigs are actually taking time off their busy schedule to participate and witness Rajshri's most ambitious film till date helmed by director Sooraj R Barjatya. The film strives to tell people to seek and scale  the Everest within, and in the process finding oneself, through the journey of the protagonists Amitabh Bachchan, Anupam Kher, Boman Irani, Danny Denzongpa, Sarika, Neena Gupta and Parineeti Chopra.
It is this voyage of self discovery that seems to have attracted the corporates, who as sources tell us, actually want their employee force to watch the film and come back armed with hope, heart and happiness.
Looks like Uunchai is actually the film that will celebrate Azadi Ka Amrit Mahotsav in the real sense by infusing fresh blood  into Indians today!
Uunchai, incidentally, sees Sooraj Barjatya, deviate from his musical family fiesta to go on a road trip to the Everest base camp, and is shot at 17000 plus feet above sea level, with a senior star cast, and produced by Rajshri Productions in association with Mahaveer Jain Films and Boundless Media.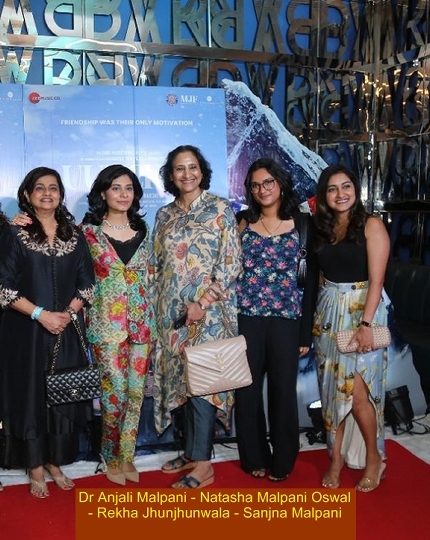 Uunchai, directed by Sooraj R Barjatya is in theatres now.