SRI SRI KAALI PUJA Was Sponsored And Organized On 24th & 25th Oct At Country Club Andheri West By WEE – Women Entrepreneurs Enclave
"Mahatirtho Kaali Baari" and Kajol Ghosh Rochwani (Social Activist at Versova Vidhaan Sabha). The event was well-managed by "ShreOM Communications & Solutions" owned by Chaitali Chatterjee. The auspicious Puja was performed by Shri Gopal Mukherjee.
The Chief Guest of Honors were Dr. Bharati Lavekar (MLA, Versova Vidhaan Sabha),  Bollywood Singers Kumar Sanu, Shri Udit Narayan & Smt. Deepa Narayan, Shri Chandrashekhar Pusalkar and Mrs. Mridula Pusalkar (TRUSTEES of Dadasaheb Phalke Memorial Foundation), Ms. Nandita Puri (Chairperson of OM Puri Foundation) & Music Composer Dilip Sen.
Bhog was served for 2 days and Cultural Evening was organized with performances by various artists and anchored by Ashim Kumar Seal. The event also included Exclusive Stalls by Women Entrepreneurs.
Smt. Kajol Ghosh Rochwani and Shri Gopal Mukherjee were felicitated by "Dadasaheb Phalke Memorial Foundation" and Chaitali Chatterjee (Chairperson of WEE – Women Entrepreneurs Enclave) was felicitated with "AKF Star Sanman Certificate" by Anup Seva Foundation for her excellent work in social sector.
Melodious Shyama Sangeet was performed by Dr. Mrinal Nag and mesmerizing classical Sangeet was performed by Narendra Chakraborty and group.
The event was also graced with 1000 visitors in 2 days along with Guest of Honors Shri Yogiraj Dabhadkar (Corporator Ward 60), Mr Pandari S Shetty Founder Trustee of Dadasaheb Phalke Memorial Foundation, (Hon) Dr.KAREN TERRY RAZA (Mrs Maharashtra –WINNER-2021 and Glamorous Diva 2021), Ms. Namrata Thakker, Actress Sajani Srivastav, Actor Pankaj Kalra and many more.
"WEE – Women Entrepreneurs Enclave" thanks its WEE Members Ms. Bonnie Gupta ("Ariana"), Farida Saroshian ("Fidra Products"), Anupama Padhi ("Dhaani"), Rekha Kalra, Silky Kapoor ("Ishika Handloms"), Dr. Alka Naik, Vandana Lal, Bindu Masurkar, Nishi Joshi, Saathi & Shivani Zaveri (Shivani Garments), Mita Sarkar, Seema Bhardwaj, "Emarald Jewels", Pamela and Lokenath Das for their support.
WEE acknowledges the entire team Sanjib Chatterjee, Sandip Bose, Shri Nigamananda Thakur, Niranajan Manna, JK Mondol, Bhaswati Chandra and Sharmistha Rimi Banerjee.
About WEE:
WEE – Women Entrepreneurs Enclave" which is brainchild of Chaitali Chatterjee is an interactive forum for Women Entrepreneurs to scale-up their business together. WEE offers various platforms to all women entrepreneurs to showcase and present their products and services and connects them to clients from different parts of the world through online & offline events, exhibitions, online news portals, social media, Networking Meets, it's e-commerce platform, panel discussions, talk-shows & interviews & many more.
Presently WEE has 8600+ members in 9 locations – Mumbai, Delhi, Kolkata, Nagpur, Pune, Bangalore, Assam, Lukhnow and Singapore.
Join our upcoming events: https://forms.gle/xSvqarBCYYPnSKYGA
FB group: https://www.facebook.com/groups/2263179697242204/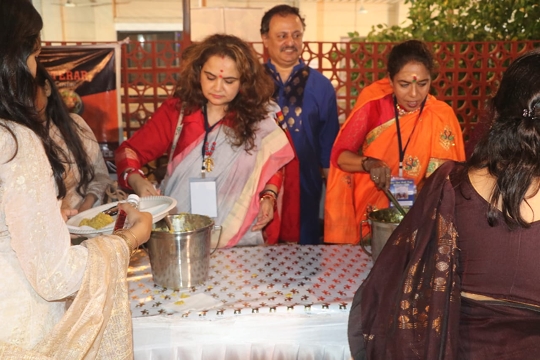 SRI SRI KAALI PUJA  Was Sponsored And Organized On 24th & 25th Oct At Country Club  Andheri West By WEE – Women Entrepreneurs Enclave