Mumbaikar Lalit Patil Captures Slums and Immortalises their Landscape in his Canvas
Parvez Damania, Sudharak Olwe, Madhushree, Rupali Suri,  Rusha Madhwani, Anusha Srinivasan  Iyer, Sanjay Nikam inaugurate Lalit Patil's Landscape of Identities at Jehangir Art Gallery
Lalit Patil, a Mumbaikar visual artist from three decades, is a Slum Star in his own right. He actually converts slums into timeless masterpieces.
His exhibition at Jehangir Art Gallery, Gallery 3,  titled Landscape of Identities was inaugurated by Padma Shri Sudharak Olwe, art collector Parvez Damania, playback singer Madhushree and her composer husband Robby Badal, actress Rupali Suri, celeb nutritionist Rusha Madhwani and director-egalitarian earth warrior Anusha Srinivasan Iyer, sculptor-curator Sanjay Nikam among others.
The artist in Lalit Patil spends his free time not just observing the city, but looks at the slums as his inspiration. "Munbai is a complex place — it makes space for the denizens that flow into the city and makes them its own. Whether it be with its buildings,  slums and people, they are all enveloped by Mumbai," avers Patil.
The structure of the slums hold a strange fascination for the artist. Says he, "Slums have  an unexpected structure wherein they are houses enveloping the area, with light passing through  darkness, forming shapes. These. Structures  in juxtaposition with huge buildings in the background have their own story to tell. They define the metaphase if the city." This structure of complexity and abstract form replete with human emotion and the bond to stay alive keeps the city alive as much. It is this emotional aspect in the  landscape that excites me most."
Unlike others, Patil prefers spot paintings. He actually visits the slums and captures each moment he experiences in his frozen frames. "Each stroke represents an emotion for me," he enthuses.  Patil's conceptual work titled 'Landscape of Identities' is such that  every piece of art has its own definition, a tale, an identity.  He has even made special sections where scrap creates its own canvas. "I believe my works strongly define me, you, the people of Mumbai, us," he concludes.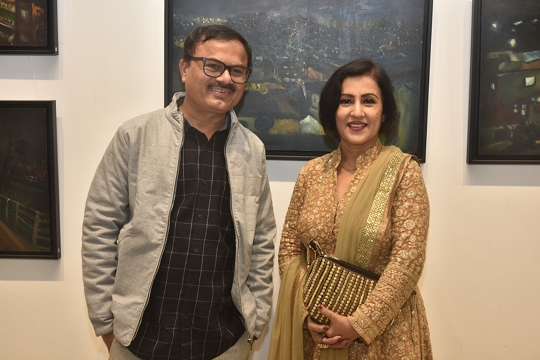 Mumbaikar Lalit Patil Captures Slums and Immortalises their Landscape in his Canvas